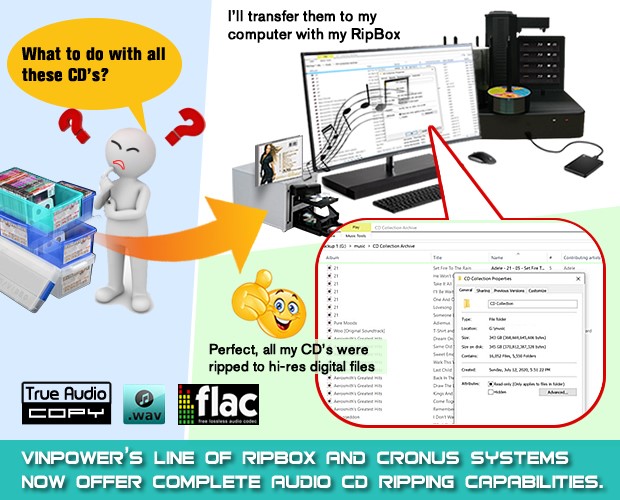 If you're like me, you have shelves or possibly boxes full of CD's you've collected over time and now they just sit there collecting dust. It's not because you don't enjoy the music any longer, but it's just not as convenient anymore. What if I told you there is an easy and automated way you can rip your entire CD's collection onto your computer or a portable hard drive quickly and accurately? It's true, using the low cost Vinpower RipBox or the high production Cronus systems, you can set the discs into the input bins, walk away and let the systems do the work. Come back and find all the discs you loaded ripped needing to babysit or monotonously loading each disc 1 at a time into your computer drive, if you even still have one.
In fact, all the content will retain all the crucial metadata, like the artist name, song title, album title, and so much more. On top of that, you can save the files onto any type of format you'd like, including the more common .mp3 or for true audio files, onto lossless audio files like flac or .wav, to retain that authentic uncompressed sound as it was meant to be heard.
Maybe you already ripped all your CD's a long time ago into iTunes or similar software, where they were all ripped as the extremely compressed files, losing a lot of the original sound quality the artist and producers worked so hard to create. Now you can easily and cheaply rip all the discs again into a high quality lossless audio file, like flac or .wav. Now you can once again listen to the music in its original uncompressed state for a more dynamic listening experience.
For more details on these products or any items that Vinpower offers, please visit www.vinpowerdigital.com, or contact a Vinpower representative near you.
Interested in this article? Click on the following link to read this and all previous email blasts and interesting related content from Vinpower's official Blog: https://blog.vinpowerdigital.com/