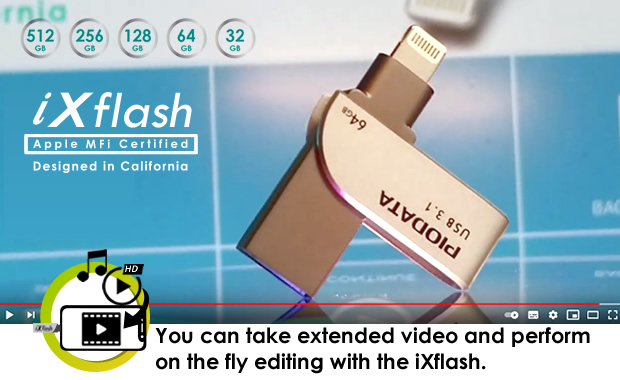 Last week, I shared an interview that took place during CES 2021 related to our upcoming iXflash Cube with Carl McLarty or McLarty Films. While conducting that interview, we also discussed the values of the original iXflash and how useful it can be for the everyday user, especially someone that likes to take a lot of videos. The interviewer, Carl was quite impressed and recounted a time when he lost all the videos he had on his iPhone while traveling abroad. Because he didn't have internet access and therefore no access to the cloud, he couldn't upload his videos to his cloud storage at that time. Later, while at the beach, his iPhone became waterlogged and he lost all the content, including all the photos and videos he took. He mentioned, if he had the iXflash, he could have backed up his content beforehand and wouldn't have lost everything.
As a thank you for the interview and because we enjoyed the conversation, we sent him an iXflash for his personal use. Upon receiving the iXflash and completely unprompted, Carl made a short video focusing on another of the virtues the iXflash offers, being able to record video directly to the iXflash without using any of the memory on the iPhone. As an added bonus for this feature, you can even pause the video and restart it, in essence editing on the fly, for an even better and more useful experience.
See Carl's short video about the iXflash from the below link:
https://www.youtube.com/watch?v=ys0RNGTaxeU&t=3s
For more details about this product or any product in the Vinpower offering, please visit our website www.vinpowerdigital.com, or contact a representative near you.