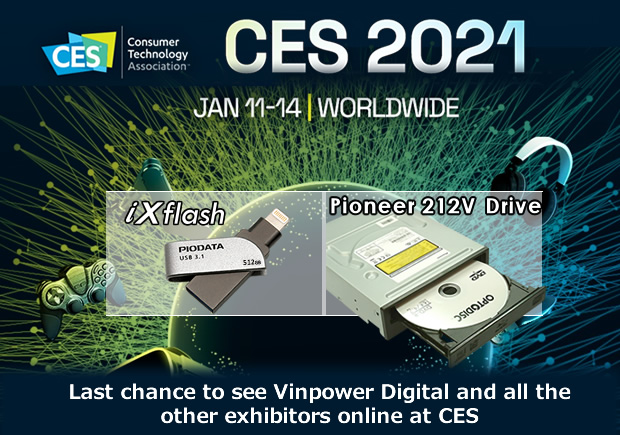 Last chance to see Vinpower Digital and all the other exhibitors online at CES
Due to the pandemic, CES was held digitally this week, allowing visitors the opportunity to visit every showroom from the comfort of their own home or office. Today is the last day of the show and your last chance to visit Vinpower's booth to see what new products we're exhibiting at the show. It's not the same as being able to visit the show in person, but it's a lot safer and more convenient to be able to digitally peruse the digital showrooms in your pajamas.
Vinpower is highlighting our collaboration with Pioneer's BDR-212V drive. Vinpower worked with Pioneer to improve the DVD burning capability and drive longevity to improve the drive for the higher production duplication market. Hence the V in the model number stands for Vinpower. In addition, we are showcasing our broader line of duplication hardware and media.
We also highlighted our line of Apple iOS mobile iPhone and iPad accessories, in particular the iXflash series. The iXflash is the ultra-portable large capacity iPhone / iPad flash drive that allows users to backup their photos and videos, watch movies, listen to music, view and edit files, including zip files, and so much more.
For more details about this product or any product in the Vinpower offering, please visit our website www.vinpowerdigital.com, or contact a representative near you.