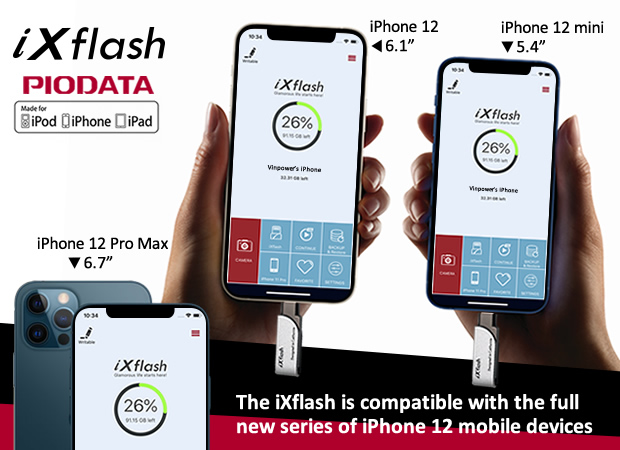 As is customary every year, though a little later than usual, Apple touts their latest batch of iPhones along with other new inventive items they plan to offer to the general public. Due to disruptions because of COVID, the announcement was about a month later than normal, but the pomp and circumstances were still in full affect. Amongst other new or improved items Apple plans to release now or in the near future, the pièce de résistance was certainly not just 1 or even 2 new iPhone offerings, but a total of 4 new iPhone 12 versions. The main difference between the devices is the size of each iPhone, which of course all of them offer advantages to previously released models.
Given that the iXflash is a tremendous accessory for an iPhone or iPad, we are proud to acknowledge that the existing iXflash and the iXflash App is compatible with the latest line of iPhone 12's. Vinpower takes pride in making sure the iXflash and its corresponding App remains at the leading edge of technology and offers its users the best and most reliable experience. Hence, it's critical that we make sure the iXflash is up to date with any new or enhanced Apple iOS software and/or corresponding hardware. Recognizing the importance of not just compatibility, but also any and all new advancements that could enhance the iXflash's ability to support our client base, is why the iXflash remains the most useful portable Apple iOS accessory.
To learn more about this item, or any of Vinpower's line of products, visit www.vinpowerdigital.com, or speak with a Vinpower representative in your area.