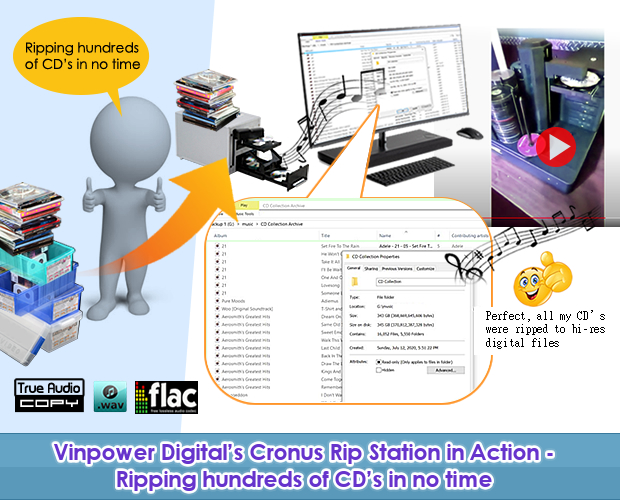 A Vinpower customer recorded this video to show how useful and easy it is to use Vinpower Digital's Cronus autoloader publishing system duplicator to rip over 50,000 CD's from their collection. Using Vinpower's Cronus with the added ripping software, they could seamlessly transfer all the important CD audio meta data from their discs onto an external server. This provides the best of both worlds by maintaining the original CD master and creating a digital library of all the music they own for easy recall whenever they want. Plus, they are able to store the music files as Lossless Audio Files to maintain the original recording quality while maintaining all the pertinent information from the CD, like song title, album title, artist, genre, date, and much more. Turn your CD collection into your own personal mobile digital jukebox to listen to what you want, when you want, anywhere you want.
Click on the following link to see the video for yourself: https://youtu.be/trcbSkwn-YI
You may not have 50,000 CD's laying around, but you probably have quite a few that it would be so much easier to transfer to digital files. Vinpower offers both large and small automated ripping stations to fit any size job. Don't want to deal with purchasing equipment and ripping the discs yourself, contact Vinpower and we can assist by providing a ripping service for you.
To learn more about Vinpower's line of standalone robotic autoloaders, or any of our products, visit www.vinpowerdigital.com, or speak with a Vinpower representative in your area.