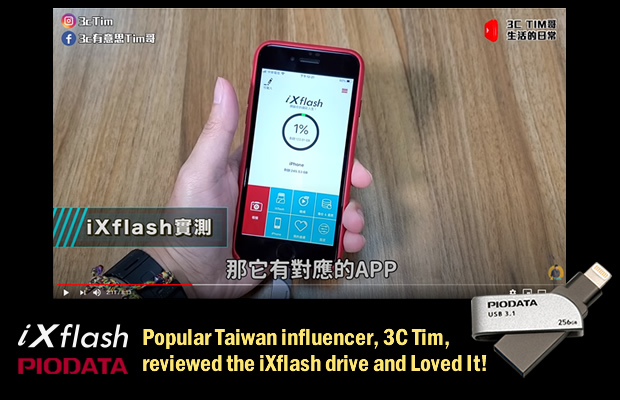 Word is quickly spreading about the benefits of the PioData iXflash iPhone / iPad flash drive. Because the iXflash is available globally, we are getting a lot of positive feedback from customers around the world. Just recently, a popular influencer, named 3C Tim, decided to review the product on his YouTube channel and gave it an overwhelmingly positive endorsement. As you can see from the below link, 3C Tim found the many features not only beneficial, but also easy to use.
Check out the video for yourself (Please note that the video is in Mandarin Chinese – but even if you don't speak the language, it's easy to follow his excitement)
For those that can't speak Chinese, 3C Tim talked about:
• It's small compact size, easy to transport
• Take pictures and videos that go directly to the iXflash, without using any of the iPhone's internal
• How to backup all your photos and video from an iPhone onto the iXflash
• How the iXflash supports all the MS Office programs, like Word, Excel, PowerPoint, PDF, etc.
• That the iXflash allows the user to open and create Zip files, (including the most popular formats, such as 7 zip, rar, and more), which an iPhone or iPad cannot perform on its own
• You can even open or create password protected Zip files
• The iXflash is your mobile office, allowing the user to store and display presentations when traveling
• The iXflash offers a read only feature to prevent viruses from corrupting the files or your computer
• Providing offline streaming by allowing users to download all their movie and music content onto the iXflash and playback through an iPhone or iPad
• The backed up images on the iXflash maintains all the original photo and video formats and meta-data from the original images
In addition to the thousands of people that viewed the iXflash review on 3C Tim's YouTube page, it was also picked up by a major network TV station in Taiwan and rebroadcast for their national audience.
For more information on this product or anything that Vinpower offers, visit www.vinpowerdigital.com, or speak with a Vinpower representative near you.