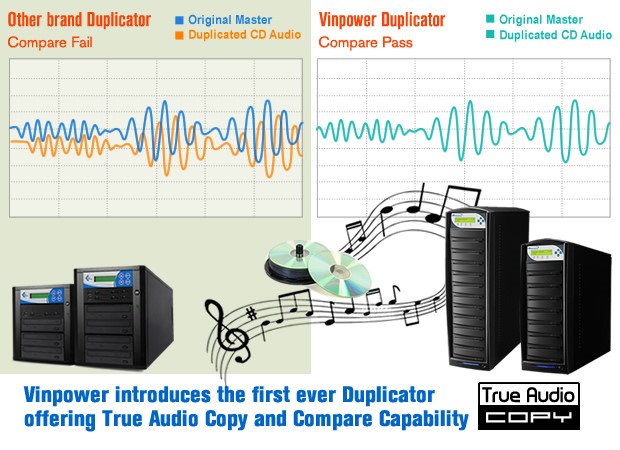 When the CD was introduced in the early 1980's, it took the world by storm. The ability to hear music in such pristine clarity and an entire album could be contained on 1 side, meant the listener didn't have to stop the music to turn the record or cassette to side B. At that time, there was only replicated CD's as the recordable CD-R wasn't invented or probably thought of at that time. By the early 90's, the 1st recordable CD-R's were introduced and even though the early versions were very expensive and slow, it didn't take long for the CD-R to take off either. As the prices dropped and accessibility of recordable drives and CD-R's increased, CD duplication towers began popping up all over.
The problem with CD duplication towers were there was no way to perform a proper compare after the content was duplicated onto recordable CD-R discs. That's because CD-R's had no Error-correcting code (ECC) built into the design and there was no way to perform an accurate parity check through the duplicators. Which meant there was no way to make an exact 100% recreation of CD audio content. That was true until now. Vinpower created their exclusive line of TrueAudio duplication equipment that can perform the 1st ever True Copy and Compare feature for audio CD-R's. This option will allow operators performing audio CD duplication the assurance that the copied discs will be an exact reproduction of the master content.
As I mentioned many times in the past, CD duplication, particularly audio CD, is still extremely strong in many territories, showing there's still a need for a better and more reliable CD duplicator. Just because the overall optical disc market has decreased, it doesn't mean the market has disappeared. In fact, the businesses that have stayed the course, are finding it's worthwhile to continue investing in CD duplication hardware as they are picking up more clients that no longer find replication a viable option.
Of course these towers can copy DVD as well, but the true advantage is the CD audio Copy and Compare functionality. If you're looking to improve your reliability and confidence with your CD audio duplication jobs, contact Vinpower to learn more about our TrueAudio Duplicators.
For more details about this product or any product in the Vinpower offering, please visit our website at www.vinpowerdigital.com, or contact a representative near you.