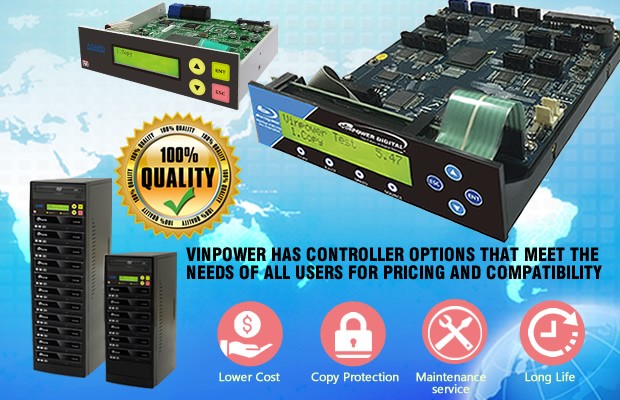 Vinpower has long been known as a reliable and innovative duplication hardware manufacturer. Yet, the key to our success lies in the high quality of our standalone duplication controller. The knock on our controller was that added technological and safety advantages came at a cost, pricing our controllers above others, like ACARD. Now, with our acquisition of the ACARD duplication technology, including the controllers, we are able to offer a complete line of controllers, including lower cost versions for more price sensitive markets.
Vinpower is the largest global supplier of digital duplication controllers. This has stemmed from the overall reliability and high quality of our controllers. Another benefit is the fact that the Vinpower controllers can work with all known drives and medias on the market today, as well the ability to operate special functions with select drives and media, including the ability to offer copy protection for DVD and BD video content. These added benefits, plus lower costs, offer a greater assortment of benefits to duplication customers around the world.
In addition, when a duplicator's drives become worn, they have issues burning certain medias and create longer duplication times or higher failure rates. Vinpower's controllers recognizes these variances in the methods that drive's burn media at during various stages in its production cycle and helps compensate through managing the duplication process. This not only extends the lifecycle of the drives, but also reduces the number of failed burns produced by the duplicator(s) as well. Making the Vinpower controllers able to further save money by extending the life of the drives and not wasting perfectly good media.
For more details on any of the products that Vinpower carries, please visit our website at www.vinpowerdigital.com or speak with an official Vinpower representative near you.