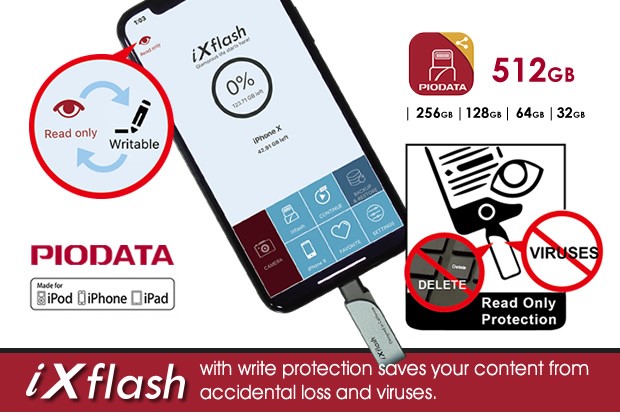 Picture this, you backup all your pictures from your iPhone / iPad onto your iXflash. In an effort to free up space on your iPhone / iPad, you delete those images off those devices after saving them to the iXflash. Afterwards, you let someone borrow the iXflash to copy some of your images that you wanted to share. Unfortunately, they accidentally deleted all the files from the iXflash during the process, losing irreplaceable images that you hadn't had a chance to back up onto another source yet. That could be crushing! Or worse yet, they plug the iXflash into their computer, which unbeknownst to everyone is infected with a virus or malware. They accidentally upload that virus or malware onto the iXflash, which in-turn infects your computer when you plus the iXflash into it. Next thing you know, your computer is infected just because you wanted to share some files with a friend. There's an easy way to prevent both of these worst case scenarios from happening.
The iXflash offers a feature that converts it to a Read Only, Write Protected drive. By turning on the read only / write protection feature on the iXflash app, with just 1 click, you can easily prevent images from being deleted, altered, moved, or infected, accidentally or on purpose. Since nothing can access the drive, you can prevent the drive inadvertently becoming infected with viruses or malware, protecting both your priceless content on the iXflash as well as keeping your computer virus clean! Don't take chances, use the iXflash and the iXflash App to keep your content and your hardware safe!
For more details about this item or any of the products Vinpower Digital manufactures or distributes, please visit our website, www.vinpowerdigital.com or contact a Vinpower representative in your area.