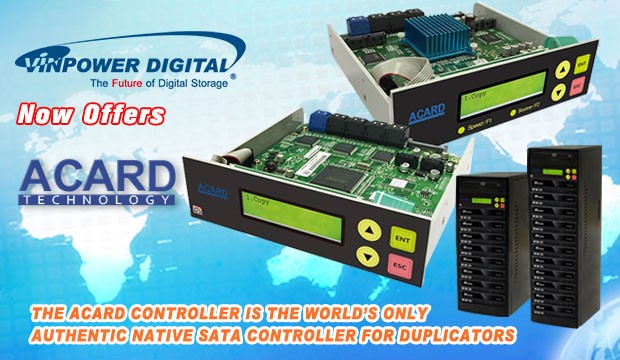 With Vinpower's acquisition of ACARD's duplication product line, it allows Vinpower to continue to offer ACARD authentic line of optical disc and hard drive controllers. The benefit of this is that ACARD was the 1st and only duplication controller manufacturer to offer true Native SATA controllers. The benefit of the native SATA is that it provides the best solution in terms of compatibility with SATA components. Since all other controllers require a bridge adaptor to interface with a SATA connected device, this adds another component into the mix. Adding the bridge board increases the number of devices needed to interface with the SATA device as well as the overall cost.
By using the ACARD native SATA controllers, it provides a true SATA to SATA connection and reduces the overall cost of the controller hardware, making the ACARD controller an attractive offering, especially in emerging markets where costs are a bigger concern. So if you've used ACARD in the past or you're looking for an alternative to your current controller option, Vinpower can supply you with an authentic ACARD controller with true Native SATA interface.
For more details about this item or any of the products Vinpower Digital manufactures or distributes, please visit our website, www.vinpowerdigital.com or contact a Vinpower representative in your area.