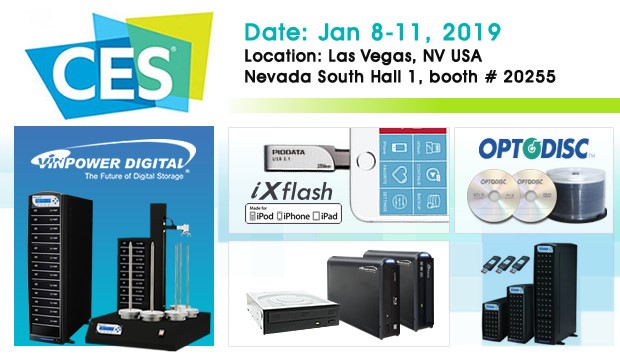 The CES trade show is quickly approaching and is just over 1 month away. Taking place in Las Vegas, NV from Tuesday, January 8 through Friday, January 11, 2019, this is the perfect time to contact Vinpower and secure a meeting during the event. The start of a new calendar year symbolizes a fresh start and new opportunities, especially for the electronics Industry highlighting their latest advances and models at CES (Consumer Electronic Show).
Once again, Vinpower will be exhibiting at CES in the South Hall 1, booth # 20255. We will be exhibiting some exciting new product lines that we have recently finalized. However, in order to be among the first to witness these incredible new products, you'll have to visit us at CES and see them for yourself. Vinpower is very excited about these new offerings and think they will be very popular. Therefore, if you plan to attend the show, please contact us to make an appointment to visit our booth. If you cannot make it, stay tuned for future announcements from Vinpower!
For more details about any products Vinpower Digital manufactures or distributes, please visit our website, www.vinpowerdigital.com, or contact a Vinpower representative in your area.