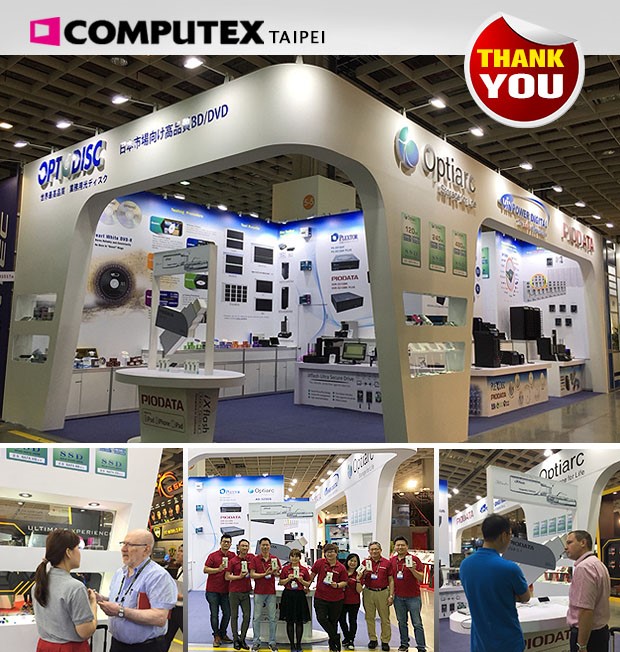 Vinpower Digital once again exhibited at the popular 2018 Computex trade show in Taipei, Taiwan and we are thoroughly appreciative of everyone that visited our booth. Vinpower exhibited numerous new and upcoming product lines and received a very positive reception from all those that visited with us. Items of particular interests were the new line of:
• Pearl White DVD±R media,
• Advanced Optical Disc Drives from the Optiarc, Plexdisc, and Piodata lines;
• USB Duplicators (offering the ability to create and duplicate write protection, password protection, and offer an external log file(s) of the system's operation through a PC);
• USB flash drives (offering the ability to add write protection and password protection on the fly)
• The iXflash series, our latest offering in our Apple iPhone/iPad extended memory;
• Our increasingly popular OPTODISC line of recordable media;
• The upcoming line of SSD drives;
• and many other offerings.
For those who unfortunately could not visit us at Computex, you are always welcome to contact us directly at one of our branch offices in the USA, Taiwan, China, or Europe. We thank all of our loyal and happy customers, partners, and friends and look forward to continued advancements and success throughout this year and beyond!
For more details about Vinpower and our expansive product line, please visit our website at www.vinpowerdigital.com, or contact a representative near you.