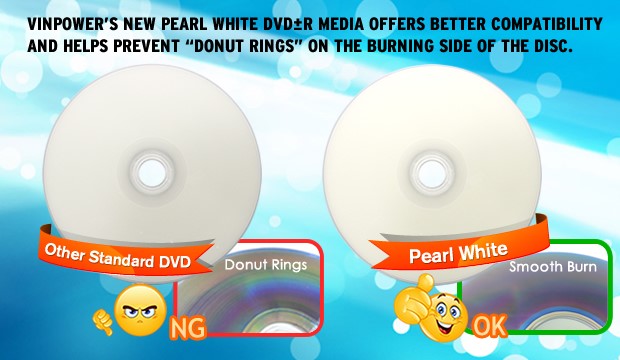 Vinpower introduced our new line of Pearl White DVD±R Media at the 2018 Computex Trade Show in Taiwan this week. Patterned after the success of the original Princo white DVD±R Media formula, Vinpower acquired key engineers from Princo to develop our improved line of Pearl White DVD±R. Princo was famous for their oddly white colored discs, which were able to burn effectively even under less than favorable conditions of the drives. The drawback of the Princo DVD line was the fact that since they didn't adhere to the official DVD specifications, the discs had a shorter lifespan in terms of maintaining the data integrity.
When Vinpower developed the Pearl White DVD±R media line, we improved the reliability and longevity of the media and incorporated the official DVD specifications and disc geometries. Because of these advancements, Vinpower's Pearl White DVD±R Media has demonstrated an ability to successfully record content even when using older legacy drives or drives that have a lot of wear and tear causing other types of media to have high failure rates. On top of that, the new Pearl White DVD±R media uses a specialized Recording Dye that minimizes the uneven appearance of the recording surface of the disc, which is often referred to as "Donut Rings".
To recap, highlights of Vinpower's Pearl White DVD±R Media line are:
• Special formula derived from PRINCO (White Disc)
• Maintain the basic disc geometries and improved long term data integrity
• Easy to burn for all models or conditions of ODDs, preventing high failure rates
• Easy to read for all kinds of ODDs and players (both old and new)
• No speed drop during burning and playback
• No "Donut Ring"
For more details about the Pearl White media or any product in the Vinpower offering, please visit our website at www.vinpowerdigital.com, or contact a representative near you.