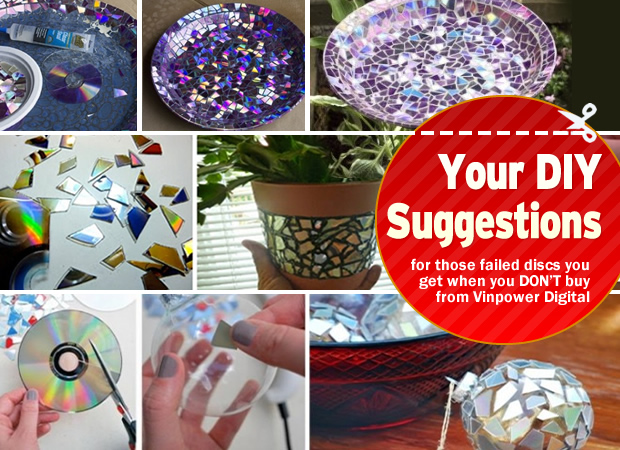 We've all done it, tried to save a few bucks and bought a cheap alternative only to find out that it didn't work or didn't work for long. Then you end up throwing good money after bad to buy the product you should have bought the first time. That's the same in the world of optical discs. You may think you're getting a deal by saving a fraction of a penny buying media made in a 2nd or 3rd tier market, versus Vinpower's line of Optodisc media made in the 1st tier Taiwan factories. In reality, the failure rate on those "cheap" discs will cause you to throw your potential savings in the trash and risk your customer's constantly complaining about the bad quality.
So you went against your better judgement and bought the lower grade media, but then you learned your lesson and came back to the consistent quality and reliability Vinpower has built its reputation on. So the question lingers, what do you do with all those unused discs you ordered from those NON-Vinpower suppliers?
Vinpower has the perfect suggestion for you, mosaic arts and crafts. It's simple to do. Just use any household scissors to cut up those bad discs and then glue the pieces (reflective side up) onto a table, flower pot, holiday ornaments, or any number of household items and voila, you have transformed that dull item into beautiful artwork. Not only will you find a way to recoup your money from those failed discs by selling your beautiful artwork online, but it will be therapeutic so that you can also calm your nerves from the frustration of wasting your money and not ordering from Vinpower to begin with.
Of course you can save yourself the hassle, expense, and wasted time by just skipping the low grade media hassle and buying direct from Vinpower from the start. That will mean you'll have to find your artistic outlet somewhere else, but at least it won't be at the expense of your bottom line.
For more details on Vinpower's line of media or any of the duplication products and accessories we carry, visit our website, www.vinpowerdigital.com, or contact a Vinpower representative near you.