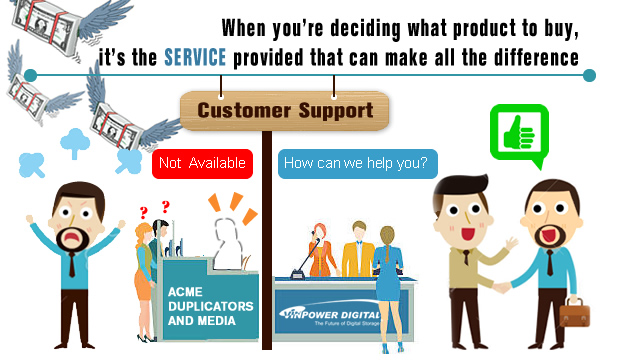 If you buy a nonperishable product, especially a mechanical item, there's often a warranty that comes with that purchase. The warranty is supposed to give us a sense of security that the product will function properly at least a certain period of time or else that item can be repaired or replaced at little to no cost to you. But what happens if the company or person offering the warranty either doesn't have the capability or doesn't have the empathy to provide the service that you relied upon when you purchased the item. It's those incidents when you realize the true value of service and those that truly put the effort into the production of the product and can stand behind the product and fully support the item should there be any issues later.
Service is what separates Vinpower from other manufacturers and suppliers, because we have the knowledge and know how to provide reliable products and the capability to support them should there be any issues in the future. Take Vinpower's line of optical disc drives (ODD), such as Optiarc, Plextor, or Piodata for instance. There are fewer and fewer companies offering ODD's and those that do no longer have the financial incentive to provide the support needed that was prevalent in the height of the ODD market. So the current manufacturers simply provide minimal testing and even less trouble shooting to identify and resolve issues that customers, especially those in the production intensive duplication market. That's where Vinpower shines. Not only does Vinpower provide enhanced duplication FW and hardware modifications, but we also have the ability to modify the ODD's to best meet the needs of the customer and the media they are using.
So when someone says they don't want to pay extra for service, they'll soon learn how much extra that savings will cost them. They key is that Vinpower offers the service at a price comparable and sometimes less than those offering no service, so what's the reason not to go with the support and reliability of a company that stands behind its products, can't think of one.
For more details about the Vinpower line of ODD's or any of the products Vinpower carries, visit our website, www.vinpowerdigital.com, or contact a Vinpower representative near you.