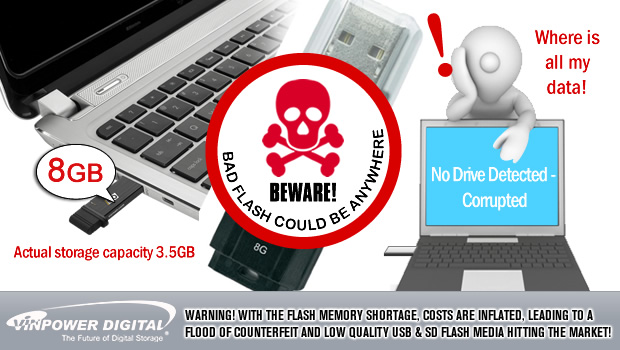 As the flash market is concentrating on the creation and subsequent market shift from the 2D/Planar to 3D NAND technology, it's creating a shortage in supply for good quality flash memory in the storage market. This situation has a huge impact on the SSD market, but also touches on the standard USB and SD flash drives as well. Because of this, the oldest adage of economic principle of supply equals demand, has shifted to a greater demand that most suppliers can provide. Because of this, there are a lot of lower tier and unscrupulous manufactures trying to fill the underserved marketing place with lower priced high capacity USB and SD flash drives. The problem is that many of these manufacturers either can't or purposely don't use adequate memory to provide a fully functional product. The market is flooded with low cost flash drives that state they have a specific capacity only to discover that not only does the flash drive not have that capacity, but the memory it does have is low grade and can be corrupted easily, thereby crashing and losing all the data contained inside.
Vinpower has been aware of this situation for quite some time and we've worked tirelessly to help our customer overcome these issues so that they can use our USB and SD duplicators to produce effective and reliable copies of even the lower grade flash devices. At the same time, Vinpower has developed tools to help weed out the bad flash drives from the good ones, so that manufactures and wholesalers will be able to identify which flash drives are good and which are bad with confidence. The fact that Vinpower offers flash duplication hardware, gives us a unique perspective and capability to identify and weed out the negative from the positive flash drives. This helps avoid the potential nasty situation where a customer purchases a high capacity flash drive, like the popular 8GB version, then they find there's only 3GB worth of memory on the drive and because of the extraneous circumstances the drive crashes and you lose everything stored on it.
I'm not saying that every low cost flash drive manufacturer is bad quality, but it's more likely than not and it's only going to get worst as long as the demand is high and production is lower for the larger more reputable companies.
For more details about Vinpower and our expansive product line, please visit our website at www.vinpowerdigital.com, or contact a Vinpower representative at a location near you.