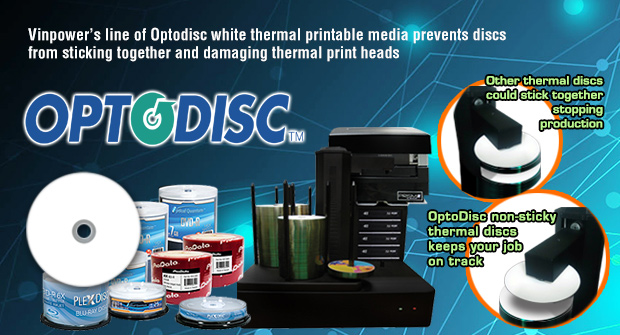 The nature of the white thermal printable surface tends to create a more adhesive surface type that can lead to 2 or more discs sticking together. This can become a serious problem, especially when this media is being used with automated publishing duplication equipment for multiple reasons. Firstly, when the media sticks together, it could damage the writable surface of the disc leading to higher failure rates. Secondly, when placing multiple discs onto a writer drive tray, it could damage the drive. Lastly, and most seriously, multiple discs could be placed into the printer and break the print head. Replacement print heads are very expensive and could kill your production until the printer can be repaired.
When Vinpower created the Optodisc line of recordable media, we set out to make not only a better quality burning media, but also ensuring the printable surfaces were the best available. We weren't immune to the stickiness issue, but upon discovering the problem, we quickly jumped in to find a solution. For some time now, Vinpower's line of Optodisc white thermal printable media not only offers excellent print quality, but also ensures the least tacky surface greatly reducing the risk of the media sticking together. Because of this, the likelihood of creating bad burns or damaging the drives or printer due to sticky media is virtually null. So, if you want top quality white thermal recordable media in any format, CD, DVD, and Blu-ray, at great pricing, then Vinpower's line or Optodisc manufactured recordable media is the perfect solution for you.
For more details about the Optodisc line of media, visit www.Optodisc.com or www.vinpowerdigital.com, or speak with a Vinpower representative in your area.