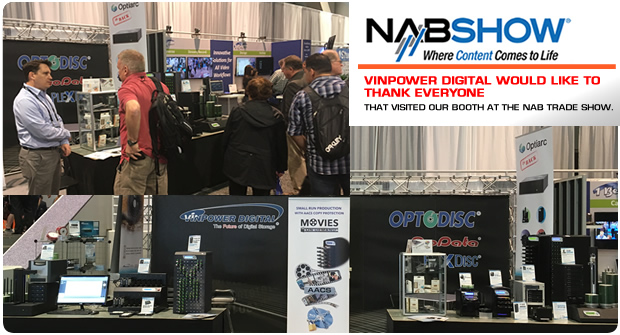 Vinpower would like to thank everyone that visited our booth during the 2017 NAB trade show. We look forward to further discussions about our product offerings. Each year the turnout is tremendous and the customer feedback has been very positive and encouraging that we are on the right track.
The NAB attendees were very pleased to view our expanded product offering, especially our large scale 128 port USB duplicator, latest line of iPhone and iPad flash storage and security devices, media offerings, publishing systems. The "iDevice" flash drives allow individuals to back up all of their photos and videos from their iPhones and iPads and well as play back stored content like movies and music without using their iPhone's or iPad's internal memory. In addition, there was a lot of attention for our enhanced USB and SD/Micro SD flash duplicators. These larger systems allow users to copy even more devices asynchronously or simultaneously than any of our previous systems. Additionally, we showed the Cronus publishing series offering our exclusive BCP Blu-ray copy protection. This series of publishing systems offers the ability to embed true copy protection on DVD and Blu-ray and soon to offer the world's only AACS copy protection through a standalone duplicator. We showcased many other useful Vinpower hardware and media offerings.
For those who unfortunately could not visit us at NAB, you are always welcome to visit our website at www.vinpowerdigital.com, or contact us directly at one of our branch offices in the USA, Europe, Taiwan, or China. We thank all of our loyal and happy customers, partners, and friends and look forward to continued advancements and success throughout this year and beyond!