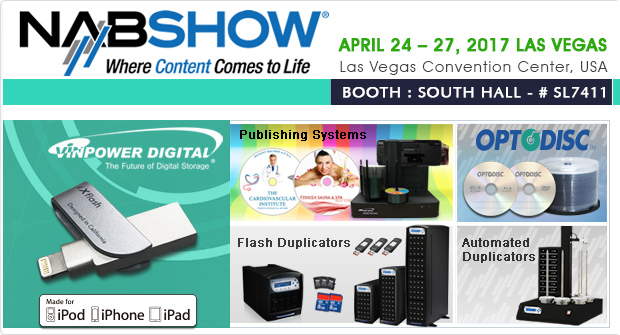 Here's another opportunity to see both the incredible hardware and advances Vinpower Digital has in store for 2017 and beyond. If you haven't already done so, you can register now for a Free Exhibits Pass, Use Code NE26. This is the perfect time to make an appointment and meet with a Vinpower representative to learn about the exciting new products and features Vinpower has and will soon launch. Vinpower has made new strides in their USB and SD duplicators, automated duplicators and publishing systems, and our latest breakthrough the new Secure Flash media line. Those and more will be on display during the NAB tradeshow taking place at the Las Vegas Convention Center from Monday, April 24th through Thursday, April 27th. Even if you visited with us at CES this past January, you'll still want to visit our booth at NAB as we've made even more strides in those months that you are certain to learn about products and opportunities that were not on display or discussed at CES.
Here's a link to register for the FREE NAB exhibit pass: https://registration.experientevent.com/showNAB171/?Passcode=NE26
For more details about scheduling an appointment or any of Vinpower Digital's range of hardware, software, and media offerings, visit our website, www.vinpowerdigital.com or speak with an authorized Vinpower representative near you.