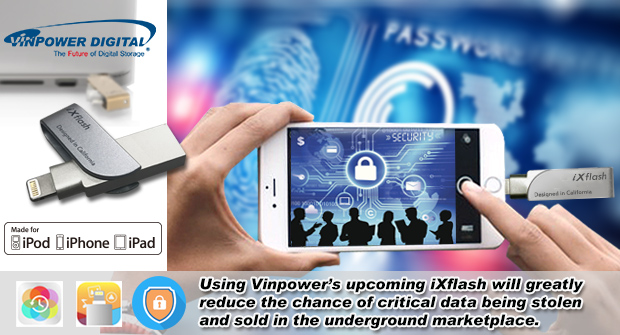 There seem to be a constant barrage of news stories about leaked information and stolen data, be it political emails, corporate records, or medical data. In fact, a recent article declared that stolen health record databases can sell for up to $500,000. That's a sizeable sum for any data, but looks to be commonplace in a growing underground market to acquire medical insurance IDs. In fact, according to the article, medical insurance ID's with valid prescriptions were selling for $0.50 US each, and complete profiles of US victims including medical and health insurance data were selling for just under $1 each. Meanwhile, fraudulent tax returns based on stolen medical records were selling at $13.50 and fake birth certificates based on data stolen from medical records were selling for around $500. If you think about the fact that millions of patients medical history and data could be at risk, that's an incredibly scary situation.
The special Secure version of the iXflash from Vinpower, which will be available soon, can completely secure data by removing it from vulnerable networks and cloud storage and utilizing a multi-tiered encrypted protection. The Secure iXflash also has a failsafe system that should the device become lost or fall into the wrong hands, will completely wipe out the entire memory, preventing the content from being accessed by an unauthorized person. It may sound like a Mission Impossible plotline, but in reality, the Secure iXflash will make sharing digital content incredibly safe and versatile.
If you want to know more about the iXflash device and the Secure version, visit Vinpower's booth at the NAB trade show in Las Vegas, NV between April 24 – 27 in South Hall (Lower) – # SL7411. We're certain once you see all the benefits packed into this tiny device, it's going to become a staple for virtually any corporation and individual that maintains sensitive data! Look for the iXflash to be available in late Q2 or early Q3 of 2017.
For more details about Vinpower's offerings, please visit our website www.vinpowerdigital.com or contact a Vinpower representative near you.