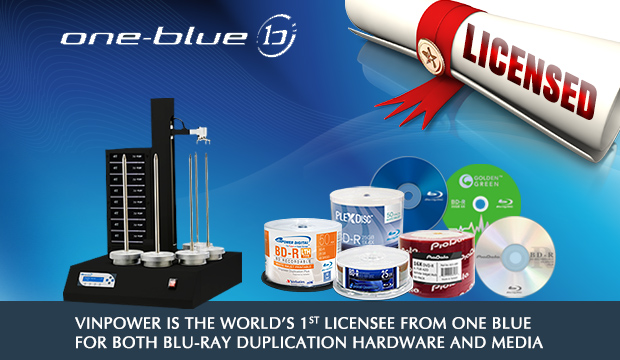 Vinpower is the world's first and only One Blue licensee that has a Media Brand License and Duplication hardware license for Blu-ray, ensuring complete compliance and compatibility. In the past, the patent holders for CD and DVD were only interested in securing media & drive royalties from the original manufacturers. So even if a product was unlicensed, the buyer was not required to pay the license fee. That is no longer the case with Blu-ray. Today, regardless of whether you are the manufacturer or the buyer, either or both can be responsible for paying the royalty amount for the full quantity of Blu-ray duplication hardware or media they sold or purchased.
So don't get caught with substantial fees or a potential lawsuit from the One Blue organization by purchasing Blu-ray media or hardware from an unlicensed company. Protect yourself and your customers from the burden of potential harassment and/or legal consequences by working with Vinpower products and know that you have officially licensed and royalty paid duplication hardware and media.
For more details about Vinpower's licensed One Blue products or any of Vinpower's product line, please visit www.vinpowerdigital.com or speak with a Vinpower representative near you.